Conservation Education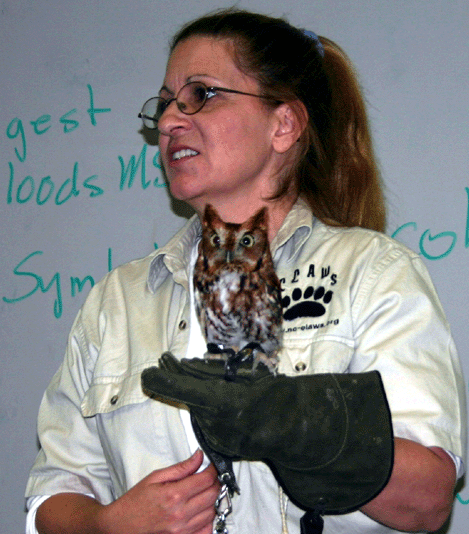 Since January of 2005, when we started doing outreach programs in earnest, we have seen tens of thousands of people. All of our programs are done on an outreach basis and we are fully licensed and insured. We are happy to teach at libraries, classrooms, corporate events, select birthday parties, summer and after school camps and many other locations and events.
CLAWS is one of only 17 licensed raptor educators in the state of North Carolina.
While zoos teach us about many species, they do not house many of the species that we do. Most zoos do not have animals that are considered nocturnal or native. So, many of the animals that you will see in our programs simply cannot be seen at zoos, especially in this state. Also, we come to you, so there is no need to transport students in buses, simply sit in your classroom and let us come to you. Zoos also typically only give a portion of information about each species on a small card on each display. Our programs are interactive, we are there to answer any questions that you or your students may have. This makes our programs a very unique educational experience.
Please be sure to give us plenty of notice. We are now booking out at least two months, especially on the weekends. We could have cancellations, but there is no guarantee of that.
To read what some others have said about our programs, please read our testimonials page.
All programs are taught by Kindra Mammone, occasionally with help from board members and a select few volunteers, who know the animals intimately. This is to ensure the safety of both the animals and the participants. Safety is of utmost importance to us, both for the animals and the participants.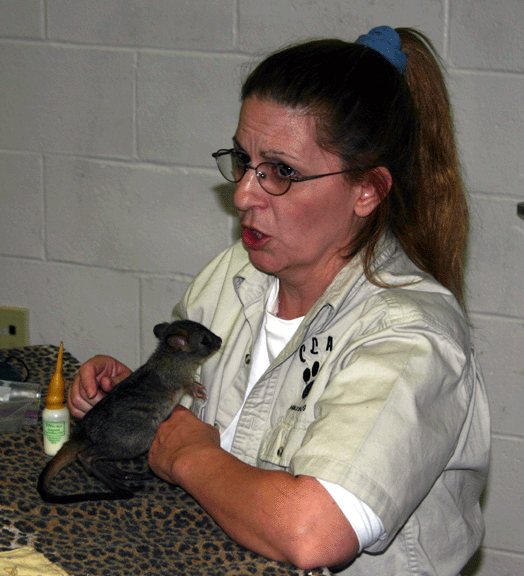 We try to incorporate into each of our programs the following information about each species:
Native habitat, including information about the country/region of origin
Their individual environmental adaptations
Their place/job in their native habitat
Behavioral traits ( both in captivity and in the wild where this applies)
Dietary needs and habits
Scientific classification and what that means
Status in the wild, including an age appropriate discussion as to why their status is what it is.
How to safely cohabitate with wildlife
Each program can be tailored for the audiences' particular interests and age range.
With the rate at which species are now becoming endangered, and with the number of exotic animals now being kept as pets, we believe that it is important for people of all ages to learn about and understand the animals around us. We believe that understanding the animals will help people to understand why it is so important to ensure their survival in their native habitat.
We have recently added raptors to our programs. This gives us a broader base of animals to teach about.
How our Programs are Taught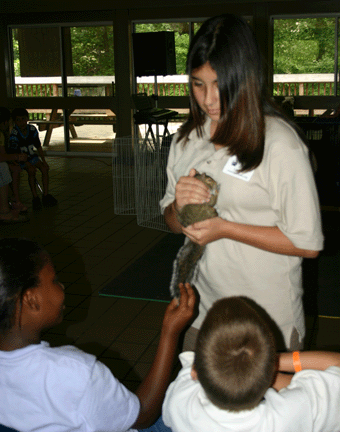 We incorporate a variety of methods in our teaching, including demonstrations of the animals' natural behavior, question and answer sessions.
We try to allow people to see the natural movement of the animals as much as possible, so that you can get a feel for their true nature. Again, this is done in a way that is safe to both you and the animals.
We have an extensive list of species available to bring to programs:
Native American Wildlife
Species from 5 different continents
Species from 3 of the 5 major ecosystems
Several species of marsupial
Several species of unique rodents
Several species of raptors and birds of prey
Species with very unique adaptations to their native environment
Species that are endangered in the wild and very rare, even in zoos in the US
This allows us to cater our programs in several ways, including by scientific grouping, ecosystem, region of the world . We are happy to work with you to modify our presentation to suit your current curriculum.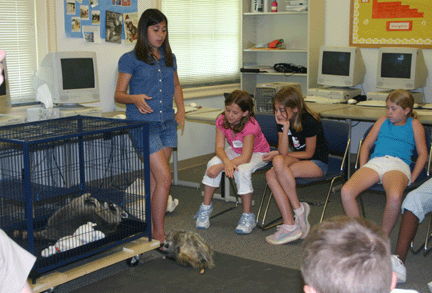 When contacting us, please let us know the age groups we will be dealing with. Many of our animals are species that are used in the fur industry. While this discussion can be interesting and informative to older children, we prefer not to scare younger children with some of the realities.
Cancellations and schedule changes must be sent to CLAWS, Inc. a minimum of 48 hours in advance, baring natural disasters, or full payment will be expected for the program. We will work with you to reschedule each program, but often we have declined another program to do yours. Since this is how we pay to car for the animals, we must do the programs that are booked.
The health of our animals is very important to us. All of our animals are seen by a vet a minimum of once a year for a physical. Each has any shots that are appropriate, all that can be are vaccinated for rabies and other things (this includes skunk, foxes, raccoon and kinkajous) are, and all are tested for parasites at least yearly and wormed regularly as a preventative.