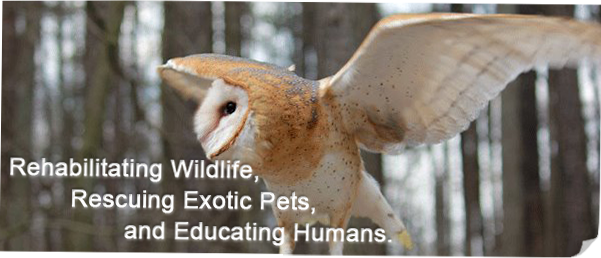 Welcome to CLAWS, Inc.
Rescuing, rehabilitating and speaking for North Carolina Wildlife
If you have a wildlife emergency, please call (919) 619-0776.

DO NOT

email or text about wildlife in need.
If you are calling after hours, please review our AFTER HOURS page.
Drop offs are BY APPOINTMENT ONLY!
CLAWS is an all volunteer run organization, operated on private property and not open to the public. If you wish to learn about our outreach educational programs, please go to the link at the top of the page.
CLAWS is a unique organization in that we have a three part mission. This, at times, makes what we do much more difficult. However, it is also very rewarding. From watching our patients heal, to watching our rescues learn to trust, to watching the sparkle in children's eyes!
Our Mission
CLAWS, Inc. is an organization that is dedicated to helping wild and exotic animals, through educating the public as well as rescuing and rehabilitating those animals in need. Our educational programs and wildlife rehabilitation are done on a local basis: however, our exotic animal rescue has spanned the entire country.
Our goals
Teaching people to safely live in harmony with native wildlife
Rehabilitating injured, sick and orphaned native wildlife for release back into their native habitat
Discouraging people from obtaining exotic animals which are interesting but often difficult or dangerous to live with
Providing information and resources on proper care of exotic pets
Working and collaborating on both a local and national level to rescue and locate safe and permanent homes for displaced, neglected, abused and unwanted exotic animals
"The greatness of a nation can
be judged by the way its animals are treated."

Mohandas Gandhi

"Tell me and I'll forget, show me and I may remember, involve me and I'll understand."

Chinese Proverb
This is our teaching philosophy